A word from the network's CEO
Amal Multidisciplinary Group
Our Vision
Pedagogical Innovation
Excellence
Schools and Educational institutions
Ecosystem
Innovation Centers
Innovation Labs
Life wide Learning
Global Leader
Collaboration with Global Educational Networks
---
A word from the network's CEO
The Amal Multidisciplinary Group educational network integrates pedagogical and organizational flexibility with innovative teaching that breaks the boundaries of place, time, and routine learning methods. The Amal network is constantly learning and adapting itself rapidly to changing needs.
With creative, out-of-the-box thinking and expertise in learning integrated with technology, we succeed in reaching all our students, using both distance learning and hybrid learning models.
The Amal Multidisciplinary Group works to holistically integrate students within their community.
The network's Pedagogical and Technological Development Center builds a wide variety of creative solutions for learning both inside and outside the school building.
We invest significant resources in our teachers' professional development as well as in advanced infrastructure and equipment. But first and foremost, we work to provide a personalized social-emotional solution for our students, to promote their development as ethical individuals with internal resilience.
We rely on an advanced system of innovative pedagogy that provides the foundation for the network's growth and for long-term development and strengthening of our educational system.
The Amal Multidisciplinary Network trains its students for the basic skills required in today's world:
– independent functioning, innovative thinking, curiosity, innovation, creativity, independent learning, the ability to solve to real-world challenges, handling uncertainty, flexibility and adaptability, cooperation and teamwork, effective communication: spoken, written, and presentation, collaboration: local and global
The Amal Multidisciplinary Group enables its students to develop problem-solving skills, enabling them to think and explore while addressing complex issues from many fields of study.
We encourage multidisciplinary learning through a variety of pedagogical methods, integrating focus areas in science, engineering and technology, culture, humanities, and arts. In each field, we emphasize innovation and entrepreneurship through partnerships with academic institutions, research institutes, cultural entities, social organizations, and industry.
In this way, we nurture creative and innovative young leadership in Israeli society while emphasizing contribution to community.
Ravit Dom Eini, Adv.
CEO, Amal Multidisciplinary Group
---
Amal Multidisciplinary Group
The Amal Group was founded in 1928
In 2007, it became a public-benefit corporation
Dozens of junior high and high schools
Expertise in sciences, arts, engineering, mathematics, and advanced technologies
Technical and technical engineering colleges
Seven centers of technological excellence
Adult education colleges – Amal Achievement
National distribution throughout all sectors of Israeli society
35,000 students and 3500 employees
 Education for entrepreneurship as a worldview, in collaboration with community and Ethical backbone
---
Pedagogical Innovation
Organizational culture emphasizes innovation in learning, continuous development, and adoption of innovative teaching methods and groundbreaking ideas of teachers, students, pedagogical staff, and the network R&D team
Teaching staff focuses on entrepreneurial thinking
Teacher communities
Innovation laboratory
District groups of leaders in excellence; measurement and assessment according to targets that each school sets for itself
Ongoing exploration of ethical questions and social dilemmas
Emphasizing ethical excellence alongside high achievements
Excellence as a way of life, for every student, teacher, and principal
---
Schools and Educational institutions
Dozens of schools, most are multidisciplinary and enable combined fields of study
12 colleges for technicians and technical engineers
Technology education centers for Excellence
32,000 students
Advanced fields – cyber, artificial intelligence (AI), computer programming, aeronautics, biotechnology, information and data, plastic art, film, music, and more…
IDF cadet tracks: air force, navy, communications corps, and logistics corps
R&D Center for pedagogical and technological development for Amal schools – for robotics coordinators, the Ministry of Education, and educational institutions in Israel and around the world
---
The Amal Multidisciplinary Group functions as an ecosystem, interacting and collaborating with many entities in Israel's economy and society, with mutual benefit.
---
The Amal Multidisciplinary Group's Innovation Centers are built on an innovative and revolutionary model in Israel, developed by Amal CEO Ravit Dom Eini. The Innovation Centers aim to train youth to lead innovation in the business and industrial world, and to give them pioneering tools for tomorrow's world.
The connection between education and industry acts as a growth engine for young, creative leadership in Israeli society.
To date, Amal Group has established seven unique Innovation Centers in its schools:
Zefat, Hadera, Be'er Sheva, Amal High-Tech and Arts School-Tel Aviv, Amal Lady Davis-Tel Aviv, Petach Tikva, and the Gilboa Regional Council.
The Amal Innovation Centers offer:
Workshops for learning and experiencing how to lead an initiative from concept to implementation
Professional training and personal mentoring from top experts
Meetings with CEOs and leading entrepreneurs in the fields of high tech and industry
Connection with community
Educational program equivalent to a "mini-MBA" for key life skills, funded by the Amal network and philanthropies
Real-world experience and development of creative solutions for real-life challenges
Employment for three years
Support of mentors in high tech and industry
Collaboration with national and global companies
Shimon Peres National Innovation Competition and participation in international competitions
Development of projects and initiatives by student teams through a process implemented in startups and the high-tech industry
The Amal Multidisciplinary Group's Innovation Labs enable Amal's leading teachers to develop pioneering learning models and concepts and implement them in our schools.
Through the Innovation Labs, Amal has significantly increased the number of innovative teachers who create and develop new methods.
At the Labs, Amal teachers have produced a toolbox of educational and technological tools for distance learning. The toolbox includes creative examples, suggestions from Amal's R&D experts, and an organized database of materials distributed by the Israel Ministry of Education and other relevant educational entities in Israel and abroad.
Learning through Life is part of the worldview of Amal Multidisciplinary Group, encouraging students to take part in the living, breathing fabric of real life of environment and community, to contribute and to influence, to go beyond the school walls into the public space and break the boundaries of classroom and time.
To carry out Learning through Life, the student acquires skills of technological-digital literacy, identifying and assessing learning opportunities, independent learning, management and organization of learning, and the metacognitive ability of analyzing learning methods.
Because independent, flexible learning emphasizes development of 21st century skills, it also trains the learner for the challenges of future employment.
One of the ways that Amal assists teachers focusing on identifying and offering Learning through Life opportunities is to provide valuable learning practices and technologies, including through MOOC that Amal developed for public use – an online, independent learning course on learning practices for real life.
This practice, which also includes gaming – has been internationally recognized by UNESCO as one of the best mobile learning practices in the world, see map.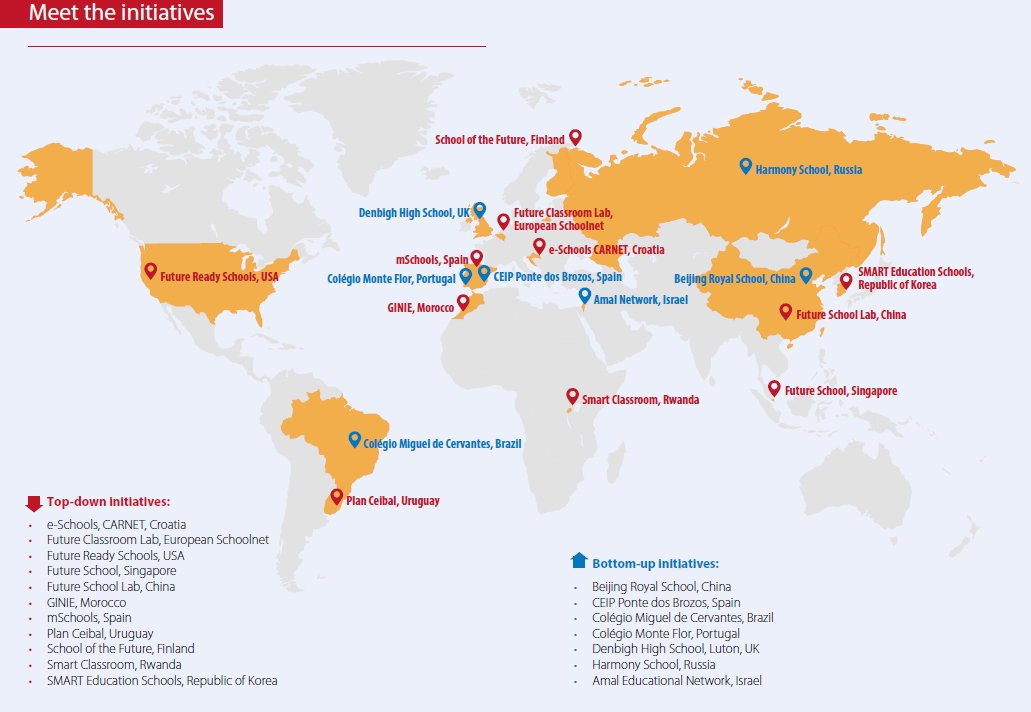 ---
The entrepreneurial students at Amal Multidisciplinary Group are leaders in the global arena. In recent years, Amal students have participated in the SAGE global entrepreneurship competition for youth, proudly representing Amal and the State of Israel against dozens of teams from around the world. They have won top prizes and gold medals, and even won the world championship.
Collaboration with Global Educational Networks
Collaboration with the European Union
Won a prominent international prize for the Amal entrepreneurial model, together with industry and community
Cooperation and student exchanges with educational networks in Denmark, Italy, the United Kingdom, and the United States
Represented Israel at the BETT world educational conference in London
Recognized internationally by UNESCO for best practice for mobile learning
Joint projects with elite universities, including Harvard and MIT
Opportunities for Amal students to participate on international teams of outstanding students working to solve global problems, through the New York Academy of Sciences' Junior Academy program